This was my third year in a row that I'm been fortunate to attend the San Diego Comic Convention (SDCC). However, it was the first year that I had a plan, a map with annotations, and a checklist.
I thought that I would try to traverse the convention's exhibit floor in an almost OCD manner of going up and down every row starting from the northern end of the floor (the side with the comics) and ending in the southern end (movie stuff). I think this idea paid out very well since I was able to do almost everything on my list and find lots of hidden surprises along the way. Walking every row on the floor and browsing each booth took almost an entire date. I started walking soon after the exhibit hall's doors opened and completed my first complete floor walk by around 3-4 PM.
How's it sit? Pretty cunning, don't you think?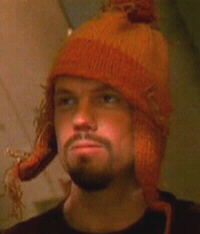 One of my first stops was the California Browncoats booth. The CA Browncoats is a non-profit 501(c) charity that promotes Firefly and Serenity. They raise money by selling products and give the money to charities selected by the cast of Firefly. This year the money went to Josh Whedon's choice of Equality Now. After purchasing a t-shirt and a "Jayne hat", I was invited to a Jayne Hat Flash Mob outside the ballroom after the Saturday's Chuck panel.
Later that day, I saw a twit from Nathan Fillion saying he was at the booth and I hurried back, but he had just left. When we returned on Saturday, my fiancée and I had wanted to get in line for Chuck. So after we got through the badge check-in, we found that there were already over 6,000 people in line with only 4,000 seats, so we didn't make it to the flash mob.
And knowing is half the battle…
As I continued walking the aisles, I found a small hand written sign on notebook paper saying Larry Hama was at another booth. Larry Hama was the original writer for the GI Joe: A Real American Hero comic book series that ran from 1982-1994. He was also the guy that wrote the captions on the back of those GI Joe action figures. He has written comics in a few other series, such as Wolverine, Venom, and other GI Joe series, but his most famous for his work in the GI Joe: A Real American Hero series.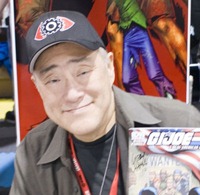 I hadn't even realized he was going to be there, so I skipped a few aisles to find the booth. Luckily, I found him tucked away in a small booth with almost nobody around. The original series was just relaunched the week prior with issue number 156 being released about 15 1/2 years since issue 155. I then ran over to the comic publisher's booth, bought another copy (since I already had a copy at home that I purchased and read the week before) and asked him autograph it. I was also able to talk a little bit with him, since there wasn't a line. Later in the day, when he went over to the comic publisher's booth, there was a much longer line for autographs.
Later in the same day, I was able to find the GI Joe: Best of Larry Hama hardcover edition and GI Joe: A Real American Hero issue number 21 – the famous silent issue that introduces Storm Shadow.
Usagi Yojimbo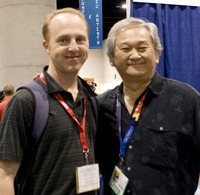 Continuing my walking, I came across Stan Sakai. Stan is most famous for his work with Usagi Yojimbo as the creator, writer, and artist. He's won numerous awards and been nominated for lots of others. This year Usagi Yojimbo was nominated for another Eisner Award for this year's best issue (number 123). Although, he didn't win that award this year, I did purchase it from him with his autograph.
Last year, I picked up Usagi Yojimbo #1 (Fantagraphics) with his autograph, so in the last 3 years of my attending the SDCC, I've visited his booth and purchased more from him than anyone else 🙂
Sea Bear & Grizzly Shark
Yes, it's a comic about a bear that lives in the sea and a shark that lives on the land – "they got mixed up." While I was walking through Image Comic's booth, I spotted Jason Howard. Luckily, the artists have little name tags on the tables, otherwise, I'd never figure out who was who.  Jason Howard is the artist behind Astounding Wolfman and the artist/writer behind Sea Bear. I picked up a copy and had Jason autograph if for me and then I had to return a few hours later to find Ryan Ottley and collect his autograph on the same copy as well. Ryan is the artist behind Invincible and also the Grizzly Shark portion of the book.
Brian Michael Bendis
Brian Bendis is one of the most popular writers at Marvel comics which means a lot of people love him or dislike him due to his choices that impact the Marvel universe. He's the written numerous books at Marvel and a few creator-owned properties such as his just released Scarlet comic book. I had wanted to read Scarlet, but my local comic book shop sold out of them when they were released. It's taken a while for the shop to reorder more, since everyone sold out and the printer is having to print second printings of the issue.
Luckily for me, I had been reading his web site to learn more about Scarlet in the weeks prior to the convention. I had wanted to get his autograph and then I discovered he'd be handing out copies of Scarlet to members of his forum.
Brian Bendis is one of the very few creators that I can recognize without a name tag and I did find him walking the floor around the Marvel booth area. I was able to chat with him for a little bit and he gave me the first issue of Scarlet. I didn't ask for his autograph, since I knew he'd be sitting at an autograph session later that day and I didn't want to bring any more attention that he was just standing there talking to me without him being overwhelmed by crowds. I tried coming back to get his autograph later, but the line was so long I decided that my time was better spent elsewhere. Getting his autograph will be the first item on my next year's task list.
Returning to the beginning…
In the beginning of my comics experience as a teenager, the early 90s New Mutants and X-Force by Rob Liefeld were two of my first collected series. Even back then, I was big fans of his characters Cable and Deadpool. So I had planned to meet him and get his autograph. The only signing that I found him at was signing a box of SDCC exclusive limited edition Action Xpress action figures of his characters Cable, Domino, Feral, and Deadpool. The little action figures look very similar to Lego characters.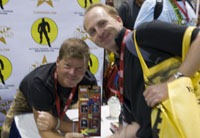 There's a lot of controversy and opinions regarding Rob Liefeld. He's most famous for his early 90s work at Marvel which is made fun of quite often by comic book snobs. Regardless of critics, his comic books have literally sold millions and millions of copies and his characters are still some of the most popular characters in the Marvel universe and comic book industry.
For me, I agree with "I love Rob Liefeld" blog. It was his artwork, stories, and character in his comic books at Marvel and later Image that got me interested in comics as a teenager. If it hadn't been for him, there's a huge chance that I wouldn't have been as interested in comics back then which also means I wouldn't be interested in comics now. So I'm a bit nostalgic about him and his comics.
Out of all of the famous people I'd meet during the comic con, I think I was most star-struck when talking and shaking hands with Rob. I only wished I could gotten an autograph comic book.
Mass Effect
One of the objects that I found as I traversed each aisle and row was the Mass Effect: Retribution novel. I had already read the first two novels (and blog about them here and here.) I thought it wasn't released yet and so I asked the person behind the book shop counter. He said that they are able to sell advanced copies at the convention as part of a promotional bit. So I purchased it, as I was completing my purchase the other salesperson told me that the author would be at their booth in about 2-3 hours to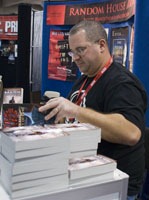 sign the books.
So not only did I score a copy of the novel a few weeks ahead of time, I was able to talk, shake hands, and get two novels autographed by Drew Karpyshyn. As I waited in line, the author's assistant was handing out free copies of Mass Effect: Revelation.
Drew is the lead writer for the Mass Effect video games and novels and Star Wars: Knights of the Old Republic video game. He's also written several Star Wars novels.
Eureka!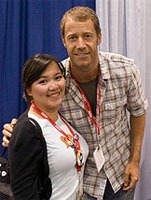 Finally, my fiancée spotted Colin Ferguson from the SyFy show Eureak out of the crowds in the aisle. He was just walking around looking at stuff. A few others noticed him and we were able to talk a little with him. We were both big fans of the TV show and had just watched a new episode the night before.
Colin was extra nice guy and I think my fiancee was just a bit speechless to be this close to the main actor in one of her favorite shows. This was an extra nice unplanned event since it should make my justification of going to comic con a little easier next year 🙂