Part 6 of many. View the start of my Vermont Brewery Challenge here.
The Alchemist was the first brewery in Vermont that I visited. I found the The Alchemist Brewery & Pub during our (May 2011) wedding, and we wanted to stop by and try a few of their beers. However, we never got a chance to stop by before we left the region.
A few months later, we were in the process of moving to Vermont and the Alchemist Pub & Brewery was the first restaurant/brewery that I wanted to visit once we arrived. I arrived in Vermont two days prior to Hurricane Irene and I thought that I'll visit the brewery after the storm passes and that I'll just spend my first days in Vermont buying supplies and unpacking. However, Hurricane Irene (in September 2011) flooded the basement of the brewery where all of the tanks were stored and nearly destroyed everything.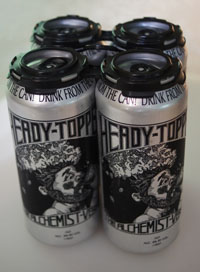 Luckily for all of us, the owner (John Kimmich) decided not to give up after having his brewery nearly destroyed. Instead, he moved all of his operations to the Alchemist Cannery (about 1/2 mile away from Pub) which had been under development at the time of the hurricane. A few weeks after Hurricane Irene passed through, the Alchemist held a special event in their flood damaged building during the Waterbury Harvest Festival where we quickly picked up a few bottles of Heretic and Luscious and a "Hell or High Water" t-shirt to help the Waterbury Good Neighbor Fund. You can read more about the Alchemist in their blog archives. The Luscious won the silver medal in the British-Style Imperial Stout beer style category at the 2012 World Beer Cup.