Last week, I discovered the Vermont Brewery Challenge from the Vermont Brewers Association's web site. The challenge is to visit every brewery in the state of Vermont – that's 24 (currently).
Since I've moved to Vermont, I've visited a couple of the breweries and sampled beer from about 1/3 of the breweries listed below. During those brewery visits, I never noticed the "passport" cards that some of the breweries have sitting on their counters. The task is simple: 1) Get a passport card (at brewery); 2) Drink; 3) Get a stamp on your card.
If you get 4 stamps, then you can mail in your card to get a free Drink Vermont Beer bottle opener. If you get 10 stamps, then you get a free Drink Vermont Beer t-shirt. If you visit all of them, then you get a Collector's Set of VT Beer Gear.
Of course, I'm shooting for visiting all of the breweries!

One thing that I noticed is that the first card I picked up was an older card (from 2010) and the newer cards has two additional breweries on the cards. The following is a list of the breweries participating in the program. As I visit each brewery, I'll submit an individual blog entry for each brewery with some of my notes.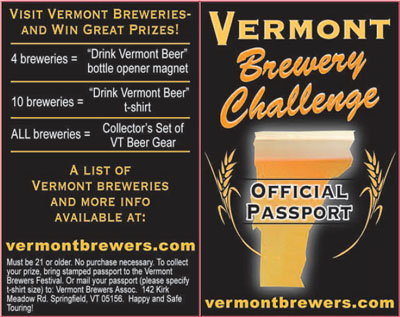 Status Update: 9 of 24 as of 6/8/2012!
14th Star Brewing Company
41 Lower Newton Street, Saint Albans, VT 05478
Alchemist Brewery
35 Crossroad, Waterbury, VT  05676
* Stamped 5/19/12
View My Blog Entry (The Alchemist)
Bobcat Cafe & Brewery
5 Main Street, Bristol, VT 05443
Fiddlehead Brewing Company
6305 Shelburne Rd, Shelburne, VT 05482
* Stamped 5/12/12
View My Blog Entry (Fiddlehead Brewing)
Brewery at Trapp Family Lodge
700 Trapp Hill Road, Stowe, VT 05672
* Stamped 5/13/12
View My Blog Entry (Brewery at Trapp Family Lodge)
Harpoon Brewery
336 Ruth Carney Drive, Windsor, VT 05089
Kingdom Brewing
1876 VT Rt 105, Newport, VT 05855
Hill Farmstead Brewery
403 Hill Road, Greensboro Bend, VT 05842
* Stamped 12/22/12
View My Blog Entry (Hill Farmstead Brewery)
Lawson's Finest Liquids
Warren General Store, Warren VT 05674
*No stamp required, visited Warren General Store 5/12/12
View My Blog Entry (Lawson's Finest Liquids)
Long Trail Brewing Company
5520 US Route 4, Bridgewater Corners, VT 05035
Madison Brewing
428 Main Street, Bennington, VT 05201
Magic Hat Brewing Company
5 Bartlett Bay Road, South Burlington, VT 05403
*Visited before, but haven't gotten stamp yet
McNeill's Pub & Brewery
90 Elliot Street, Brattleboro, VT 05403
Northshire Brewery
108 County Street, Bennington, VT 05201
Norwich Inn
325 Main Street, Norwich, VT 05055
Otter Creek Brewing, Inc.
793 Exchange Street, Middlebury, VT 05753
* Stamped 5/12/12
View My Blog Entry (Otter Creek Brewing Company)
Rock Art Brewery
632 Laporte Rd., Morrisville, VT 05661
* Stamped 12/22/12
View My Blog Entry (Rock Art Brewery)
The Shed Brewery (Bought by Otter Creek)
Stowe Location Closed, Now at Otter Creek
* Stamped 5/12/12 (Stamped at Otter Creek)
View My Blog Entry (Otter Creek Brewing Company)
Switchback Brewing Company
160 Flynn Avenue, Burlington, VT 05401
* Stamped 6/8/12
View My Blog Entry (Switchback Brewing Company)
Three Needs Brewery
185 Pearl St., Burlington, VT 05401
Trout River Brewing Company
Route 5, Lyndonville, VT 05851
Vermont Beer Company at Perfect Pair Café
48 South Main Street, Bradford, VT 05033
Vermont Pub & Brewery
144 College Street, Burlington, VT 05401
* Stamped 6/8/12
View My Blog Entry (Vermont Pub & Brewery)
Zero Gravity Craft Brewery at American Flatbread
15 St. Paul Street, Burlington, VT 05401
* Stamped 5/12/12
View My Blog Entry (Zero Gravity Craft Brewery)