Part 2 of many. View the start of my Vermont Brewery Challenge here.
I first discovered Fiddlehead IPA at a local restaurant and by the end of my meal the IPA had became one of my favorite IPAs. I've wanted to visit this brewery since I first tasted their IPA. Of all of the beer that I tasted on my first day on the Vermont Brewery Challenge, this one was on the top of my list of wanting to visit. This brewery is also one of the newer Vermont breweries, so it's logo isn't on the older Vermont Brewery Challenge Passport cards. The Fiddlehead Brewing Company has a stack of the new Passport cards located on their serving bar, so we picked up a newer version of the card.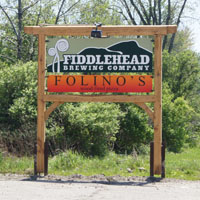 The brewery is located on Route 7, just south of the Vermont Teddy Bear Company and across the street from the Shelburne Winery. They have a large parking lot and additional parking across the street at the Shelburne Winery.
When we arrived, the brewery was empty except for "Matty O" working behind the large glass window and the server at the bar. My wife and I were treated to three samples of their brews: IPA, Hef-You Hefeweizen, and Blonde. I'm a big fan of hoppy IPAs, so I'm very pleased we got free samples of all three beers. Otherwise, I would have ordered a glass or sample of their IPA, but since they offered multiple beer to sample, I was able to taste two Fiddlehead brews that I hadn't tasted before.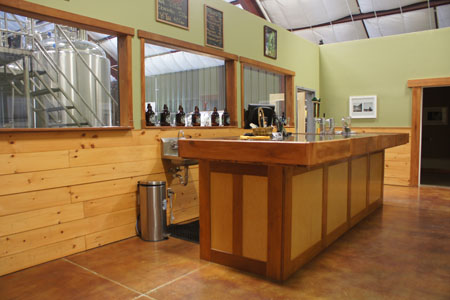 IPA: The IPA was a nice medium bodied, smooth and crisp tasting beer. There's a good balance between citrus and hops. As of this writing, their IPA is at the top section of my favorites list. I'd highly recommend this IPA to anyone visiting near Burlington.
Hef-You Hefewizen and Blonde: I'd love to remember the details about these beers, but I can't recall the details. I need to remember to bring a notepad with me or use Rate Beer's mobile app for taking notes. I do remember that both of these beers were very, very good.
As we sampled the beers, three or four groups of locals walked in and refilled their growlers – some had as many as 5 growlers getting refilled! Also on the site, there's an attached pizza restaurant (Folino's wood fried pizza) separated by wall from the serving bar area. The serving area also sells Fiddlehead shirts, bottle openers, growlers, and other assorted goods. After we finished our samples, we left with a growler of the IPA 🙂
Vermont Brewery Challenge
Stamped on 5/12/12
Resources