Part 3 of many. View the start of my Vermont Brewery Challenge here.
Otter Creek Brewing is one of the larger brewing companies within Vermont. This brewery purchased The Shed Brewery from Stowe, VT and Wolaver's Fine Organic Ales (USDA Certified Organic). Wolaver's was based out of California and the brand sold very well within Vermont, so in 1997 the two companies merged. Now, Wolaver's is produced alongside other Otter Creek beer keeping the tradition of using local and organic ingredients.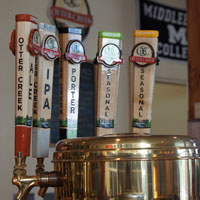 I had purchased Otter Creek variety pack at a grocery store when we first moved to Vermont. At that time, I was seeking out local breweries and it was available in nearly every store. I had also previously purchased a six-pack of Wolaver's Fine Organic Ales, but at that time, I didn't know it was owned/operated by Otter Creek.
Since The Shed Brewery & Restaurant is now closed (purchased by Otter Creek), we received both The Shed Brewery and Otter Creek stamps here. At this point in the challenge, we have 4 stamps (5 counting the free stamp for Lawson's), so we qualify for a free "Drink Vermont Beer" bottle opener magnet. However, both of us have our sights set upon more than the bottle opener!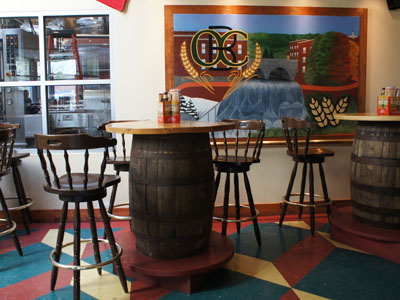 The Otter Creek Brewing Company welcome center had several tables and a large bar. They had several beers on tap and offered various "pub food" from their grill. They also had a small gift shop where you could buy beer, t-shirts, glassware, and lots more.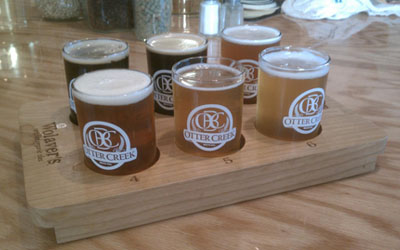 We ordered six samples which included: Otter Creek Black IPA, Otter Creek Stovepipe Porter, The Shed IPA, Wolaver's IPA, Wolaver's Wildflower Wheat x2. The Black IPA was very dark (black) with a tan head. It was a full bodied IPA with some nutty and roasted malt flavor. My wife usually drinks either Porters or Wheat beers, so we tried both the Otter Creek Porter and Wolaver's Wildflower Wheat. The one that really stood out for us was the seasonal Wolaver's Wildflower Wheat beer made with Vermont honey. We left the brewery with a six-pack of Wolaver's Wildflower Wheat and we'll definitely keep that on our list of favorite wheat beers.
Vermont Brewery Challenge
Stamped on 5/12/12
Resources