Part 4 of many. View the start of my Vermont Brewery Challenge here.
Lawson's Finest Liquids seems to be one of the more elusive Vermont brews. In fact, the Vermont Brewery Challenge even gives you a free stamp for this brewery! Just a few days prior to our search for the beer, Lawson's Maple Triple just won the Silver Medal in the 2012 World Beer Cup.
A select few hand picked Vermont restaurants each serve a different Lawson's Finest brew and you might be able to find the brewer at a local farmer's market. There's also a few other stores to find these highly sought after beers. The store with the best inventory and selection is the local general store in Warren which offers a rotating line-up of bottles that varies each week.
Lawson's Finest Liquids were also just featured on NPR's All Things Considered in the story title Vermont Beer Makers Bring Back Old-Time Maple Sap Brews. I didn't see the Sap Beer at the general store, but I'll definitely be looking for it.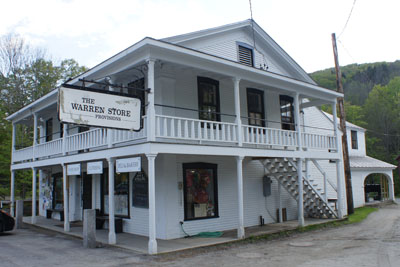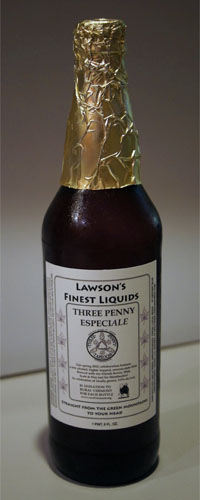 We visited the Warren General Store and selected the Three Penny Especiale. This brew was a collaboration with the Three Penny Taproom in Montpelier for Montbeerlier beer festival. The general store limits you to a maximum of four bottles per person and now I'm wishing I'd picked up a bottle of the other selection while I was there.
Our spring 2012 collaboration features a low alcohol, highly hopped, session-style IPA! Brewed with our friends Kevin, Matt, Scott & Wes just for Montbeerlier! In celebration of locally grown.
~Lawson's Finest Three Penny Especiale
A few days after picking up the bottle at the Warren General Store, I finally tasted the Three Penny Especiale. The bottle stated that it was a hoppy session-style IPA and since I'm overly fond of hoppy IPAs, I knew this would be a good one to buy (I only had 2 choices at the general store).
The beer had a golden color and it was full of hops. I believe that the more hoppy the beer is then the better it is and I was nearly blown away by the hoppiness of this beer. For my wife, it was a bit too hoppy, but I loved every drink of it. This IPA is a special 2012 brew that might not be around much longer. This beer quickly vaulted to the top of my IPA beer list. I'll definitely be looking for some more of Lawson's Finest.
Vermont Brewery Challenge
Stamp not needed, visited on 5/12/12
Resources