Part 5 of many. View the start of my Vermont Brewery Challenge here.
The next brewery I visited was the Brewery at Trapp Family Lodge. We visited Stowe for some hiking, but we found the trails to be closed. So after our scenic drive over Smuggler's Notch, we decided to explore a bit. We had never been to the Trapp Family Lodge, and I was completely surprised when we arrived.
The Family Lodge has incredible views, a disc golf course, tons of trails, and lots of activities. I didn't realize the lodge was so large.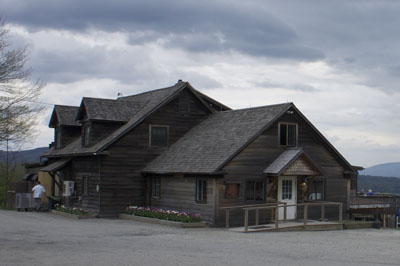 We stopped by the Brewery which also serves as a deli and bakery. There's several tables inside, several outside on the patio, and a few picnic tables outside.
We ordered a cheese plate along with a sampler of beer which included Helles, Vienna, Dunkel, and Trosten.
Golden Helles:
Golden in color, crisp, easy drinking beer for all occasions. Emphasis on malt flavors with a touch of hop to finish. Moderate alcohol content of 4.8%.

Vienna Amber:
An amber lager style that has all but disappeared over the last century. This soft, delicate beer has a touch more of a sweet finish than Helles. With a slightly higher alcohol level of 5%, this lager is still very drinkable. A subtle hop finish rounds out this delicious lager.

Dunkel Lager:
Our darkest year round beer however, looks can be deceiving. Dunkel features notes of chocolate with a full malt back bone. Contrary to its dark color, this beer finishes crisp and clean with a round hop flavor. 5.4% alcohol by volume.

Winter Lager – Seasonal:
Trosten Bier. Translates to "comfort beer" A black lager with notes of roast and smoke. Rich flavor up front that finishes smooth and clean. 5.4%ABV

~Brewery at Trapp Family Lodge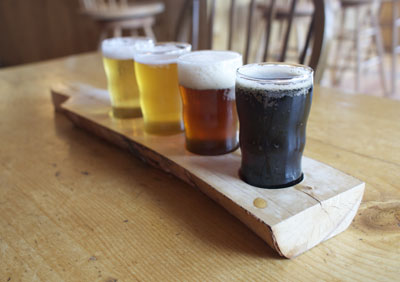 The primary difference with these beers are that they are German lagers rather than ales. I wasn't very familiar with the Trapp Family beers. I do remember having one of their lagers at (last year's) Stowe's 2011 Octoberfest event. Of the four we sampled, I enjoyed the Vienna Amber and the Dunkel Lager the most.
The Vermont Brewery Challenge has helped refine what type of beers I really like. From the sampling so far, I'm finding that I really like crisp and hoppy beers, with a greater emphasis on hoppiness.
Vermont Brewery Challenge
Stamped on 5/13/12
Resources