Part 6 of many. View the start of my Vermont Brewery Challenge here.
The Alchemist was the first brewery in Vermont that I visited. I found the The Alchemist Brewery & Pub during our (May 2011) wedding, and we wanted to stop by and try a few of their beers. However, we never got a chance to stop by before we left the region.
A few months later, we were in the process of moving to Vermont and the Alchemist Pub & Brewery was the first restaurant/brewery that I wanted to visit once we arrived. I arrived in Vermont two days prior to Hurricane Irene and I thought that I'll visit the brewery after the storm passes and that I'll just spend my first days in Vermont buying supplies and unpacking. However, Hurricane Irene (in September 2011) flooded the basement of the brewery where all of the tanks were stored and nearly destroyed everything.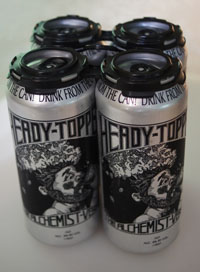 Luckily for all of us, the owner (John Kimmich) decided not to give up after having his brewery nearly destroyed. Instead, he moved all of his operations to the Alchemist Cannery (about 1/2 mile away from Pub) which had been under development at the time of the hurricane. A few weeks after Hurricane Irene passed through, the Alchemist held a special event in their flood damaged building during the Waterbury Harvest Festival where we quickly picked up a few bottles of Heretic and Luscious and a "Hell or High Water" t-shirt to help the Waterbury Good Neighbor Fund. You can read more about the Alchemist in their blog archives. The Luscious won the silver medal in the British-Style Imperial Stout beer style category at the 2012 World Beer Cup.

Having lived the last several years in San Diego, Alchemist's Heady Topper has been my transition beer from drinking Stone Brewery's Arrogant Bastard and Stone IPAs. I hadn't realized how popular Stone Brewery was until I moved to Vermont and then saw that most of their selections were in nearly every grocery. I wanted to switch to a local beer to replace my previous local favorite. Fortunately, I found the Heady Topper very shortly after arriving in Vermont and it quickly became my beer of choice.
Earlier this year, Stone Brewery, Ninkasi, and Alchemist teamed up to make a collaboration beer. I looked everywhere to find this beer, but it sold out quicker than I could find one. The proceeds went to benefit the Waterbury Good Neighbor Fund.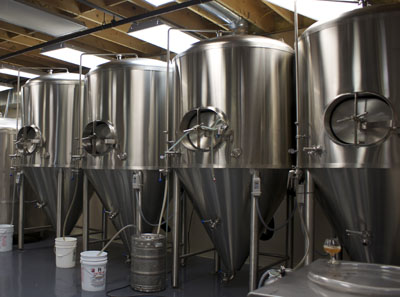 I have visited the Alchemist Cannery several times before, but I didn't know about the Vermont Brewery Challenge during those visits. So we ventured out on a nice Saturday and planned a hike to Sterling Pond and then drive through Stowe to visit Rock Art Brewery and the Alchemist on our way home. However, our hiking and early morning activities took a bit longer than we planned and we didn't have enough time to stop at the Rock Art Brewery. We were able to quickly run into the Alchemist Cannery a few minutes before they closed allowing me to pick up another 4-pack of Heady Topper and get my passport stamped.
The Heady Topper is our double I.P.A.! Loaded with hops, this one will put hair on your chest. ABV 8% IBU 120
~The Alchemist
The Alchemist (now) only brews one beer – the Heady Topper. It's a hoppy American Double IPA, so it aligns with my favorite type of beer. I hadn't bought beer in a can in quite a while, so I had to investigate why such a great craft beer comes only in cans. John Kimmich makes a logical argument for the use of cans citing the recyclability, non-issue of breakage, the superior protection from UV light, and the low levels of oxygen uptake. Although, I find those reasons sound, I felt his emotional reasoning was more interesting and insightful where he expressed his desire to bring an old-school mentality to the craft beer world.
I love the hoppiness of the beer and there's not a bitter taste to the beer. It's a dark amber color and medium to full bodied. The aroma (sniffing from the can) is amazing. It's like smelling a big bag of fresh hops. This beer has been my #1 local beer and has still remained as such, even after sampling several other local breweries. Although, Lawson's Finest comes close in hoppy goodness, it's a close call between the two (referring to Lawson's Finest session-IPA Three Penny Especiale). If anyone (and especially another hop-head) ever asks me for a recommendation of a Vermont brewed beer, I'll always tell them to try Heady Topper first.
Vermont Brewery Challenge
Stamped on 5/19/12
Resources