Part 7 of many. View the start of my Vermont Brewery Challenge here.
The Switchback Ale was another of my first Vermont beers. One thing that's nice about taking the Vermont Brewery Challenge is that it gives you a better understanding of both the local aspect of the breweries and the beer itself while allowing you to taste a few beers that you might have already had before.
The Switchback Brewing Company building looks like a big warehouse. There's a tiny parking lot and the entrance to the retail store and tasting area is on the side of the building and obscured from the street. Follow the small signs that say "Main Office" to find the entrance. The warehouse area and parking lot felt a bit strange, since most breweries have the office/store facing the parking lot with bigger signs indicating you're at the right place.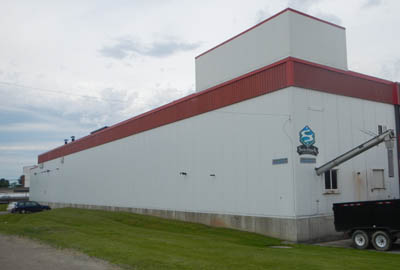 The main office had the flagship product Switchback Ale on tap along with a seasonal called the Roasted Red Ale. I discovered that Switchback doesn't bottle any of their beers. They also don't offer growler service.
One of the rooms visible from the office is currently being retrofitted to allow the company to bottle their beer into 22 ounce bottles. Since they don't (currently) bottle any of their beers, you can only buy it on draught at restaurants, bars, and theaters in the local area.
Switchback Ale
Using only traditional ingredients, Switchback Ale is a reddish-amber ale which is particularly well-balanced, allowing for complexity of flavor coupled with an unusually smooth and refreshing character. Five different malts, select hop varieties, and our own specially cultivated yeast create an ale which leads with hop flavors and a subtle impression of fruit (our yeast's contribution), followed by a palate pleasing malty finish. Our own special process uses the yeast to naturally carbonate the beer, and we leave it unfiltered. The result is a satisfying brew full of flavor with a remarkably clean and smooth finish. This ale contains 5.0% alcohol by volume. IBU 28.

Roasted Red Ale
Switchback's Roasted Red Ale is deep mahogany red colored ale. Unfiltered and naturally carbonated, Roasted Red Ale has a strong malt backbone derived from a combination of caramel and roasted malts that is balanced by an ample blend of specially selected hops. This ale is dry-hopped with a blend of Simcoe and Amarillo hops resulting in a bold hop aroma with delicate notes of citrus. The use of roasted malt lends to a subtle yet palate pleasing roasted finish. This ale contains 5.6% ABV and has 50 IBUs.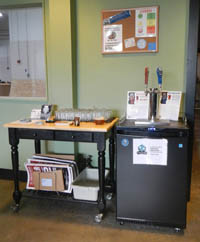 The Switchback Ale is very well balance and an easy to drink beer. It's hard for me to say anything that hasn't already been said in the above description. It's a solid beer with a great taste and smooth finish.
This was the first time that I had tasted the Roasted Red Ale and I was quite pleased. It had a nice strong roasted malt taste with a bit of hops. This beer is only available at three Burlington restaurants – all three are located near the Church Street Marketplace.
The Roasted Red Ale is definitely a beer that I'm looking forward to seeing again once they finish the bottling room and begin production. I might not be able to visit any of the restaurants serving this, but I'll definitely be looking for it in the bottle.
Vermont Brewery Challenge
Stamped on 6/8/12
Resources