Part 8 of many. View the start of my Vermont Brewery Challenge here.
To most, the Vermont Pub & Brewery is the heart of the Vermont craft beer establishment. The founder established the brew pub after lobbying the Vermont legislature for three years in an effort legalize brewpubs. He also wrote several books and articles on brewing. His brew pub became a place where he could experiment with different concepts in small batches that help kick start and energize the craft beer business in Vermont.
I've visited the brewpub a couple times before, but that was before I knew about the Vermont Brewery Challenge, so I decided to stop by, have a beer, and get my Vermont Brewer's Passport Card stamped.
A few days before my visit, the first batch of beer brewed exclusively with Vermont raised hops (part of the University of Vermont's All Vermont-Grains and Hops Project). The first beer was a Rye IPA and I was looking forward to trying it out, but when I arrived they informed me that it sold out within two days and that the next batch will be arriving soon, so I ordered a Bombay Grab IPA.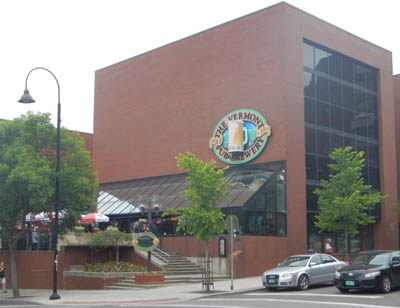 Bombay Grab IPA
A big bitter 77 IBU India Pale Ale, spiced with a blend of fragrant Magnum, Simcoe, and Cascade hops. An American IPA recipe designed by our late Brewmaster, Greg Noonan. He said that he wanted this to represent the American style IPAs being brewed by the creative brewers using today's malt and hop varieties.
~Vermont Brew Pub
Back when I lived in California, I loved the bitter IPAs, but now I've moved more towards the less bitter and more hoppier IPAs. The bitterness of the Bombay Grab IPA reminds me a lot of the west coast IPAs such as Stone IPA and others. Overall, it's a solid IPA. I'm hoping to get a chance to return and try one of the experimental beers grown from Vermont-raised hops, part of the University of Vermont's All Vermont-Grains and Hops Project before its sold out again.
Vermont Brewery Challenge
Stamped on 6/8/12
Resources