My Vermont Brewery tours were delayed a bit due to spending most of our weekends doing home improvement projects and yard work. Also, during the last few months I did get a chance to launch http://www.vtbeer.org and develop a WordPress plug-in using RateBeer API. Finally, I got the chance to make another small batch (1 gallon) of beer.
Homebrewing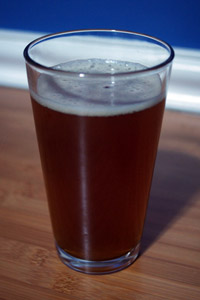 My last homebrewing project (it was also my first) didn't turn out very well, because I began experiment in the wrong brewing stage. I added a bit too much honey for priming stage and it caused the entire batch to become super carbonated, so when the bottle cap was removed from the bottle about 90% of the contents spewed out as foam. Luckily, it was just a one gallon batch, so it was only a few bottles wasted and some lessons learned.
In my second attempt (this time), I took a more measured approach and tried to follow a solid IPA recipe, with only a slight variation. The recipe was a single-hop IPA, and I choose Chinook hops since that's one of my favorites and it was in stock at the local homebrew store.
The wife review came in as "pretty good" and "easy to drink", which I agreed with. I had hoped to get a more hoppy aroma and a little more bitterness from the hops. The body and mouthiness felt right and it was a good (and easy to drink) beer. The color turned out to be between amber and orange with a small off-white head.
I purchased a hydrometer to measure original and final gravity to determine the alcohol by volume percentage, but it didn't fit into my one gallon carboy container. So next, I'm looking to buy a hydrometer test cylinder to use to measure the ABV. Also, the next time I make this recipe, I'm planning on increasing the hops by 1.5x and changing the grain list to maybe include honey malt.
Vermont Beer (VTBeer.org)
The last couple of months, I've spent some time working on a new side project – VTbeer.org. The site is dedicated to the great craft breweries of Vermont and serves as both a news and events portal. As time progresses, I hope to write some featured articles and (maybe) increase the staff from me to a few other VT beer enthusiasts.
Beer Ratings WordPress Plug-in
You can learn more about this WordPress Plug-in on it's project page. It's a work-in-progress and I have lots of ideas, but not enough time to completely all of the ideas at once. I'll be updating the plug-in as I get more free time to code (probably after it starts snowing).