After having mild success with my "easy to drink" single-hop Chinook IPA, I decided that I needed to increase the amount of hops and change the grain list. I've also been wanting to try a Honey IPA ever since I tasted Magic Hat Honey Wheat IPA at the Vermont Brewer's Festival 2012. Other than at the beer fest, the Magic Hat Honey Wheat IPA is only available on tap/growler at their South Burlington brewery.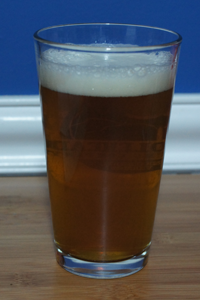 I used the same base recipe as my previous IPA, but I replaced half of the Vienna Malt with Honey Malt and doubled the amount of hops added during the boil. I also dry-hopped using Chinook (first time dry-hopping).
The result came out very good. I missed my target gravities which lead the ABV (alcohol by volume) to come in around 6%. So technically by BJCP standards, I can't call it a American IPA/Double IPA. The aroma was definitely in league with DIPAs and thanks to the dry-hopping, the beer smelled wonderfully hoppy. The color and body came out exactly how I was hoping. The previous IPA came out more amber and this Honey DIPA came out more golden/orange – I was hoping it would look "honey" colored and it came pretty close. The taste had bitterness and full of Chinook hops.
The reviews came in with much more favorable ratings by my wife, saying it was "really good" (an upgrade from the previous "easy to drink" review). I also really enjoyed this batch. However, I think I'd prefer to use Centennial hops rather than Chinook next time.
This posting is a little late and the entire batch has already been consumed. After that last batch, I wanted to try something other than an IPA. I wanted to create a unique seasonal beer, so I made a Cranberry Wheat for my fourth small batch. Hopefully, I'll post a review and a photograph in a few weeks after we've had a few to sample.